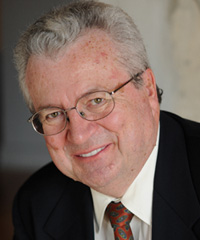 April
28

John D. Hofmeister

"Toward A New Beginning in the Quest to Solve America's Energy Dilemma"

8 p.m. Wednesday, April 28
Richard G. Fallon Theatre,
FSU Fine Arts Building

John D. Hofmeister • Wednesday, April 28
National Energy Policy Advocate; CEO, Citizens for Affordable Energy; Lecturer
John Hofmeister is a retired president of Shell Oil Company and founder of the nonprofit Citizens for Affordable Energy, a grassroots organization based in Washington, D.C. Hofmeister is a fiery advocate for establishing a rational energy policy for the United States, and warns of dire consequences if the federal government continues on its current path that represents "40 years of failure."
A business leader who has participated in the inner workings of multiple industries for over 35 years, Hofmeister also has held key leadership positions in General Electric, Nortel and AlliedSignal (now Honeywell International).
As Shell President, Hofmeister launched an extensive outreach program, unprecedented in the energy industry, to discuss critical global energy challenges. The program included an 18 month, 50-city tour across the country during which Hofmeister led 250 other Shell leaders to meet with more than 15,000 business, community and civic leaders, policymakers, and academics to discuss what must be done to ensure affordable, available energy for the future.
After leaving Shell, Hofmeister founded the Citizens for Affordable Energy as a means of educating the public about energy and energy policy. Hofmeister has been a long-time, vocal critic of the energy industry for its poor record in communicating the realities of energy consumption and acquisition and for the federal government's seeming inability to construct a rational program for dealing with the energy debacle. He is quoted as saying "If we rely solely on the political class to determine our energy future, we're in serious trouble as a nation."
Hofmeister serves as chairman of the National Urban League and is a member of the U.S. Department of Energy's Hydrogen and Fuel Cell Technical Advisory Committee, and the Sodexo Business Advisory Board. He also serves on the boards of the Foreign Policy Association, Strategic Partners, LLC, the Gas Technology Institute and the Center for Houston's Future. Hofmeister is a Fellow of the National Academy of Human Resources. See his interview with Charlie Rose here.

Mr. Hofmeister's appearance is being co-sponsored by the FSU Institute for Energy Systems, Economics and Sustainability. For more about IESES: http://www.ieses.fsu.edu/